UPDATE: SOLD
Bob in Deland FL is selling his biodiesel making equipment and supplies.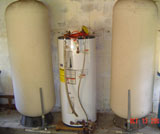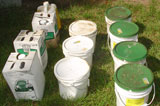 (more photos below)
He writes:
I have decided to sell out all of my bio-diesel making equipment. Its all basically brand new. I was just about to start production and my job situation has changed dramatically. I hate to sell but hopefully someone can take advantage and make an impact with what I have already put together.
Two 100 gallon fiberglass tanks, New 80 gallon hot water heater with plumbing changes made and sight tube added, Two pumps with tubing, Vacuum pump with cooling element and tank for methanol recovery, 55 gallon drum of methanol, 50 gallons new cooking oil, 30 gallons used oil. And tons of extra plumbing, books, Girl-Mark manual on how to, blender samples of 1 liter made bio-diesel from soy oil, canola oil and even pig lard and more things than I can remember.

Available only for pick up in Central Florida

I am asking $500. I've got that much in the reactor, oil and 55 gallons of methanol not to mention the twin 100 gallon fiberglass wash tanks with custom built stand pipes (pictured in front of tanks). The methanol recovery pump can be used to suck methanol from the drum as well as suck out the methanol from the waste glycerin using the radiator and fan as a cooling element. You can't really see it in the pictures but there are a ton of extra fittings as well. The reactor was never used for oil. I just about had everything set up when life got in the way.

Email me at ... at ...

But my loss is your gain. The altruistic part of me really hopes this goes to a good home where someone is really serious can make a difference in the environment by making a few batches a week. But if nobody steps forward in the near future I would consider selling it piecemeal.